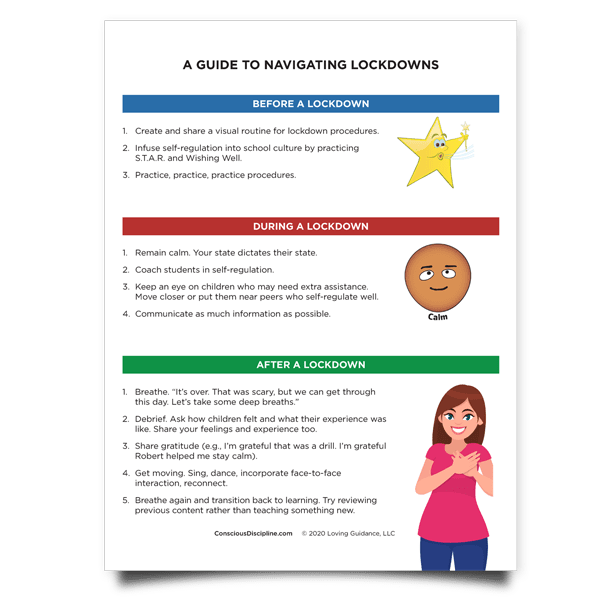 Navigating Lockdowns
Although many schools require lockdowns as a safety measure, they often trigger anxiety and even trauma for students. Children who are regularly exposed to frightening circumstances may experience depression, poor sleep, ongoing anxiety and worsening academic performance. As educators, how can we prepare children for a life or death scenario and optimal learning at the same time?
This printable provides step-by-step directions for before, during and after a lockdown. These steps are designed to minimize trauma and anxiety and help students integrate the experience.
The printable accompanies Dr. Becky Bailey's article,
Navigating Lockdowns: How to Reduce Anxiety and Restore Safety
. You can also read key takeaways on effectively managing lockdowns for
administrators
,
teachers
and
parents
.
AGE
HELPS WITH
Managing school lockdowns in a way that reduces anxiety and restores safety
USE
Provides step-by-step instructions for educators before, during and after school lockdowns
FORMAT
One 8.5x11" single-sided color printout
MATERIALS
RELATED FREE RESOURCES
RELATED PRODUCTS