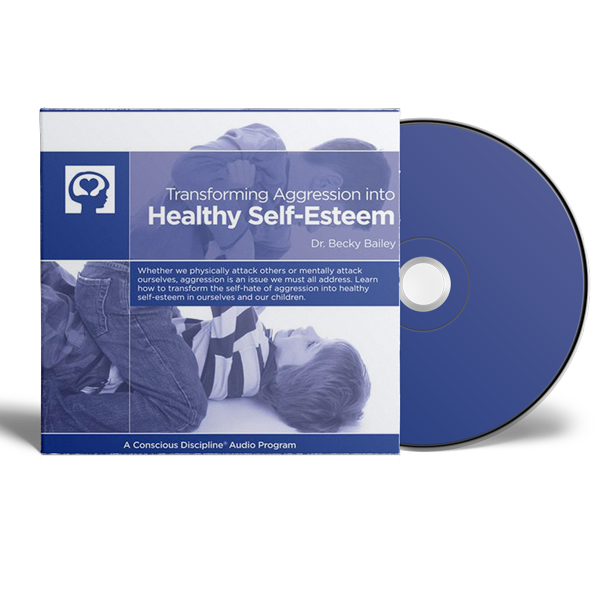 Transforming Aggression into Healthy Self-Esteem – Part 1
Transforming Aggression into Healthy Self-Esteem – Part 1
What beliefs do you currently about children who act in hurtful ways? How do you currently respond to children who behave aggressively towards you or others?
Every aggressive act stems from a perception of excessive pain. Helping children transform aggressive behaviors into helpful ones requires we see the misbehavior as a call for help. Changing our beliefs about aggression and children who act in hurtful ways are key in helping children learn new skills. Building relationships with hurting children is essential for their learning to be cooperative.
Join Dr. Becky Bailey for part 1 of this two part series as you learn to transform aggression into healthy self-esteem in yourself and your children.
Total Runtime
Time Stamps
1:45 Two reactions to every aggressive encounter
6:20 To effectively manage aggressive children you must unhook yourself from them
7:22 How to create aggressive children
14:11 Aggression stems from perception of excessive pain
17:20 Seven beliefs that transform aggression
17:56 Belief 1 - No one can make you angry without your permission
25:12 Belief 2 - The motivation to behave comes from being in relationship
26:56 "Let's do lunch"
32:29 Belief 3 - Children are either extending love or calling for love
33:58 Belief 4 - Every aggressive act is a call for love
39:22 Belief 5 – There are no good children
Belief 6 – Children can meet the needs of other children only when their needs have been met
47:40 Belief 7 – All aggression stems from the perceived experience of excessive pain
51:28 Three types of aggression
52:46 Victim first rule
55:45 Accidental aggression
Key Take-a-ways
Adults must first "unhook" themselves from children before responding to aggressive acts.
The willingness to be cooperative happens in the context of a relationship.
See children's misbehavior as a call for love.
If a child does not have the skill to do what is being asked, consequences will not work.
When aggressive acts occur, go to the victim first.
Product Mentions
Helpful Next Steps