Welcome to Shubert's Home
Playroom: Visual Routine
Back

to Playroom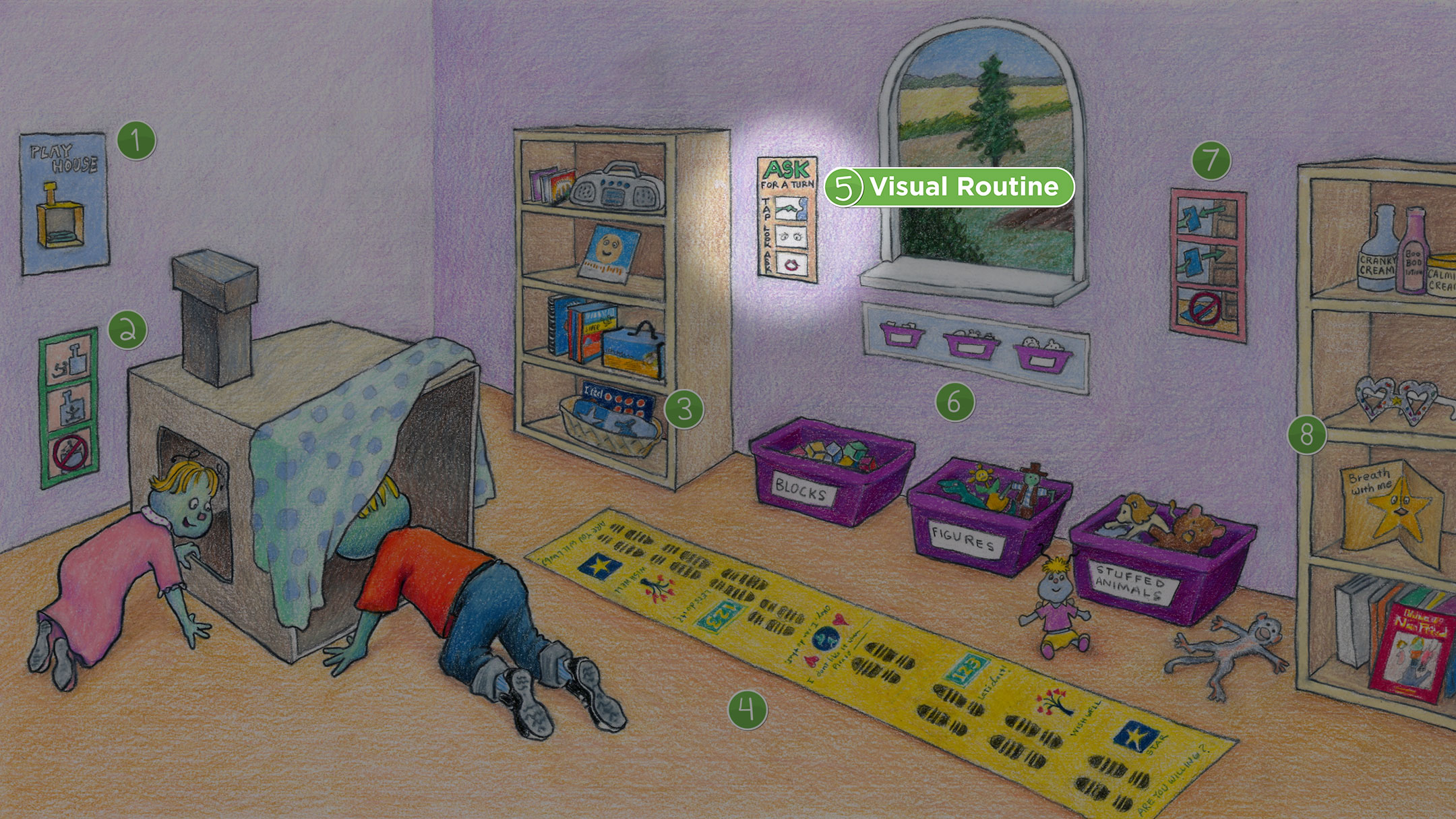 Playroom: Visual Routine
How to Use a Visual Routine in the Playroom
Visual Routines scaffold emerging executive skills like time management, organization and follow-through. Strong Visual Routines help model and build these skills for children. In a playroom, post Visual Routines for common skills like asking for a turn (tap, wait, ask) to help children be successful.
Young children think in pictures, so it's essential to provide as many visuals as possible. As children grow up, they learn to read and think in words (like adults); however, providing pictures of what to do continues to be helpful! The right hemisphere of the brain is in charge of self-regulation. The right hemisphere also processes information in images. This means it's still important to show older children visual images of acceptable behaviors. The more consistent and visually represented your routines are, the more likely children are to be successful in meeting your expectations (and the more smoothly and cooperatively your day will run).
If Mom enters the playroom just in time to see Sophie trying to grab a toy from Shubert, she might say, "Sophie, you want a turn! Look up here," and point to the Visual Routine. She would then teach the process, "When you want a turn, tap Shubert on the shoulder, wait for him to look at you and ask, 'Turn, please?' Try it now for practice." As Sophie and Shubert begin to internalize the skill, Mom's reminders will become shorter: "You wanted a turn. Look at the routine for tap, wait, ask." Ultimately, Mom's efforts will lessen as the Visual Routine handles most of the reminding.
They say, "A picture is worth a thousand words," and if you feel like you've reminded your child what to do 999 times, then a clear Visual Routine is an essential solution. Simply refer to the routine and soon your child will do the same.