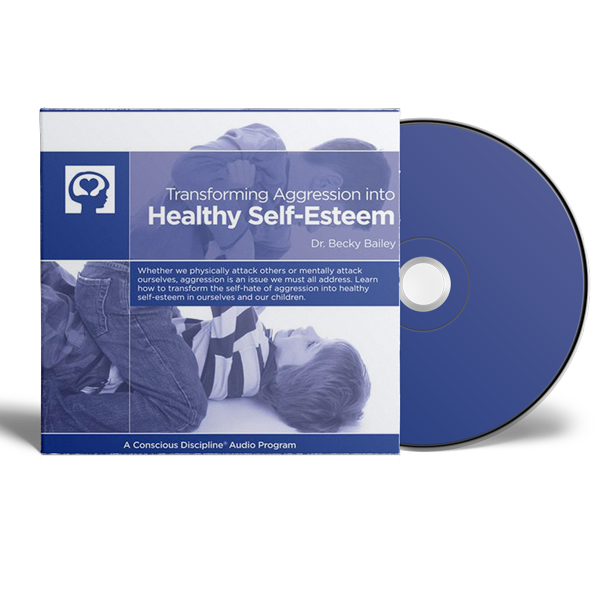 Transforming Aggression into Healthy Self-Esteem – Part 2
Transforming Aggression into Healthy Self-Esteem – Part 2
"She bumped into me." "He took my pencil." "I saw a child hitting their mother when I was out the other day."
There are three types of aggression and each requires a specific response to help children transform hurtful to helpful. Adding language to children's experiences and actively teaching children about their feelings support the development of healthy self-esteem. Providing a safe place at home or school creates the opportunity for children to practice self-regulatory skills.
Join Dr. Becky Bailey for part two of this series as you learn to transform aggression into healthy self-esteem in yourself and your children.
Total Runtime
53 minutes and 02 seconds
Time Stamps
:23 Responding to accidental aggression
6:50 Name children's emotions for them
8:08 Instrumental aggression
13:19 Add language to the child's experience
18:33 Effective consequences
23:35 Hostile aggression
27:30 Responding with structure and nurture
29:00 Safe Place story
36:09 The brain is pattern seeking
39:03 Provide anger control training
42:20 Actively teach children about their feelings
44:42 Limit aggressive models
45:50 Increase awareness of the harmful consequences
47:40 Summary
Key Take-a-ways
When we don't teach children what accidents are helps them grow up thinking people are doing stuff to them on
purpose.
Going to the victim first teaches we value healing.
Once children have the skill for what we are asking them to do and choose not to use the skill, consequences can be effective.
Respond to hostile aggression with structure and nurture.
Product Mentions
Helpful Next Steps